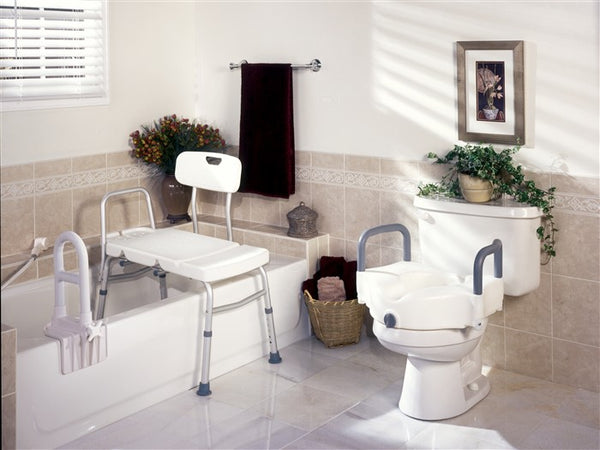 10 Tips to Improve Bathroom Safety for the Elderly
Did you know that more than one in four older Americans fall every year, and that most falls occur in the home? Falls can cause serious injury and trigger emergency room visits or hospitalizations. While bones become more porous and weaker and mobility issues increase with age, falling does not have to be a normal part of the aging process.
Falls have more than physical effects. In addition to being the number one cause of injury for older adults, a fall can trigger a crisis of confidence. When a person falls, they often develop a fear of falling, which can lead to less activity, which causes decreased balance and muscle strength which only increases the risk of falling again.
Bathrooms can be hot spots for falls with slippery surfaces and having to get in and out of the shower. Follow these tips to reduce the risk of falling in the bathroom and ensure you or your loved one can feel confident and independent at home.
1. Add a Rubber Mat or Self-Stick, Non-Skid Decals to Shower Floor
The tub or shower floor can be slippery and can make getting in and out of the shower more dangerous and anxiety-inducing. Add a simple rubber mat or decals to the shower floor to increase traction and improve your confidence in moving around the shower.
2. Secure a Non-Slip Mat Outside the Shower
Your risk of falling isn't isolated to the shower itself – you can reduce slipping by placing and securing a non-slip mat directly outside of the shower or bathtub. This gives your wet feet a safe place to go when you exit the shower!
3. Keep Your Towel and Products Within Arm's Reach
Everything you need to bathe should be within arm's reach of you, from your shampoo to your body wash to the towel. Add soap dispensers or an adhesive shower caddy to organize your products and keep them at a level that doesn't require you to bend or over-reach to get to them. The more stable you can remain while in the shower, the less risk you have of slipping or falling.
4. Install Grab Bars Around Shower and Toilet Areas
Sometimes you need just a little bit more stability getting on and off the toilet, or getting in and out of the shower, especially if it's not a walk-in shower. The addition of grab bars adds another layer of security by bolstering balance and adding a place to grab and hold onto if you're in the process of falling. Bars installed into wall studs are ideal – you should not trust towel racks or toilet paper holders to grab onto.
5. Add a Shower Chair or Bench
If you have balance issues or find it difficult to stand for an extended amount of time, a shower chair or bench can help! Consider chairs with non-slip tips for extra stability.
6. Use a Hand-Held Shower Wand
In combination with a shower chair or bench, a hand-held shower option makes bathing while sitting much easier. These showerheads are easy to install and often come with a variety of water pressure options.
7. Install a Bathtub Transfer Bench, Walk-in Tub or Stand-up Shower
Having to climb in and out of a bathtub on already slippery surfaces can be dangerous. Depending on what you have available in your house, you can make this transition easier. A walk-in tub or stand-up shower is ideal as it eliminates or lowers the height you need to step over. If that's not available to you, consider a bathtub transfer bench.
8. Remove Clutter on the Floors
This rule applies throughout your home – the fewer items there are to trip over, the less likely you are to fall! Organize all your products in easily accessible cabinets or organizers and remember to keep them within easy reach.
9. Adjust Toilet Seat Height
Bending to get on and off the toilet can be difficult. You should adjust your toilet seat to the ideal level for you. You can purchase raised toilet seats that include grab bars. In searching for the right product, ensure that it can lock into place for added stability and security.
10. Add Night Lights in and Around Bathroom
Adding appropriate lighting leading into and within the bathroom can help reduce your risk of falling during any nighttime visits. As we age, it takes our eyes longer to adjust to bright lights and flipping on a bathroom light from near darkness can be disorienting. Lights along your path and in the room will help you transition comfortably.