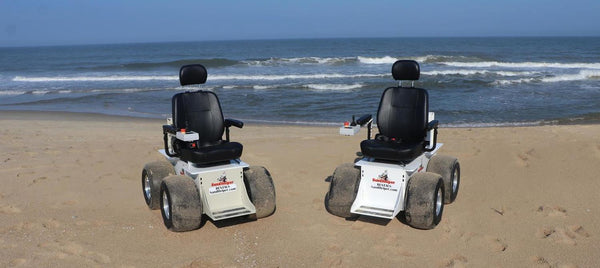 Accessible Summer Ideas
Accessible Summer Ideas
Summer is finally here and it's the perfect time to get out and enjoy the great outdoors. But what if you or someone you know has a disability? Don't worry, there are plenty of accessible summer ideas that everyone can enjoy! Here are some suggestions to make your summer memorable and inclusive:
1. Accessible Beach Trips
Going to the beach is a summer tradition, and there are many ways to make it accessible for everyone. Look for beaches that offer wheelchair ramps, accessible parking, and beach wheelchairs. Some beaches even have special beach mats that make it easier for wheelchairs to maneuver on the sand.
2. Nature Walks and Hiking
Exploring nature is a wonderful summer activity for everyone. Look for parks or trails that offer accessible paths or boardwalks. Many nature reserves have paved trails that are wheelchair-friendly, and some even offer guided tours for people with disabilities.
3. Adaptive Sports and Recreation
Summer is a great time to try out adaptive sports and recreational activities. Check out local organizations that offer adaptive kayaking, sailing, or even water skiing. Many cities have adaptive sports programs that provide equipment and instruction for people with disabilities.
4. Accessible Camping
Camping is a classic summertime activity, and it's not just for able-bodied individuals. Look for campgrounds that have accessible facilities and amenities such as accessible restrooms and showers. Some campsites even offer accessible cabins or tent platforms.
5. Outdoor Concerts and Festivals
Summer is also a time for outdoor concerts and festivals. Many venues now offer accessible seating and accommodations for people with disabilities. Check the websites of your favorite artists or event organizers to find out about accessibility options.
6. Relaxing Picnics in the Park
Take advantage of the warm weather by having a relaxing picnic in the park. Look for parks that have accessible picnic tables and facilities, and pack some delicious food and refreshments. Enjoy the sunshine and fresh air while spending quality time with friends and family.
7. Accessible Water Parks and Pools
Beat the summer heat by visiting accessible water parks and pools. Some water parks have specially designed attractions and rides that are accessible to people with disabilities. Many public pools also offer accessible facilities and pool lifts.
8. Accessible Museums and Exhibitions
If you prefer indoor activities, summer is a great time to visit accessible museums and exhibitions. Many museums now have ramps, elevators, and accessible restroom facilities. Some even offer special programs and exhibits for people with disabilities.
9. Virtual Tours and Online Activities
For those who prefer to stay at home, there are still plenty of accessible summer activities to engage in. Many museums, national parks, and landmarks offer virtual tours online. You can also explore online classes or workshops that cater to your interests.
Summer should be a time of fun and relaxation for everyone, regardless of their abilities. With these accessible summer ideas, you can make the most out of the season and create wonderful memories with your loved ones. So get out there, embrace the sunshine, and enjoy all that summer has to offer!