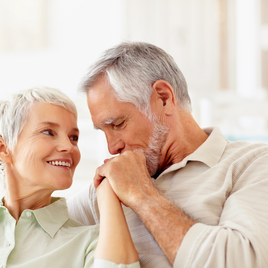 Does Medicare cover the cost of incontinence products?
For those on a budget, cost may be one the most important considerations.
A very important part of the equation centers around the question: "Does Medicare cover the cost of incontinence supplies?" Addressing cost concerns is part of the MiBladder.com unique approach to providing highly sensitive and compassionate service either in our store or through a personalized phone or virtual consultation. 
Medicaid is a public health insurance program in each state for individuals and families who may be low-income, elderly, disabled, or blind. Medicaid provides health insurance coverage or long-term care services for over 72.5 million Americans, making it the largest health insurance provider in the county. The program is designed to allow those who qualify access and coverage to receive quality healthcare or long-term care services. Approximately 20% of the United States population, or roughly 66 million people, received Medicaid benefits as of May 2020. The three categories served by Medicaid include individuals with disabilities, low-income families, and low-income older adults.
Each state has its own set of rules defining who may qualify for this public health insurance. However, all states adhere to the Affordable Care Act which requires states to use modified adjusted gross income (MAGI) as the income eligibility for Medicaid. MAGI considers taxable income and tax filing relationships to determine financial eligibility. Since the Medicaid program is a partnership between the US Federal Government and local state governments, the federal government sets eligibility and benefit requirements and the states administer the program with some flexibility under federal guidelines. Alongside eligibility, Medicaid benefits also vary from state to state. To quickly determine if you qualify for Medicaid, you can visit Healthcare.gov and use their Medicaid calculator to input income information to determine if you may qualify.
In 2017, Medicaid accounted for 9.5% of federal spending, with insurance payments totalling $577 billion. The bulk of Medicaid spending goes to long-term and acute care costs for older adults and individuals with disabilities.
Challenges of Medicaid Benefits
One of the challenges for Medicaid recipients is determining what is and what is not covered under Medicaid. Due to differences by state, there is a lack of clear documentation on covered medical services and support. Also, regular changes to coverage/benefits can create a headache for Medicaid recipients and they often struggle to know all that is covered and how to make the most of their benefits. Generally, Medicaid covers various treatments, services, or products for individuals who may be low-income, elderly, disabled, or blind.
A common question we receive is "does Medicaid cover adult diapers, pull-on's, bladder control pads, or other incontinence supplies?"
The short answer is yes; most state Medicaid programs cover incontinence supplies, adult diapers, and youth products. But there are some important rules and requirements you need to know.
Medicaid and Incontinence Supplies
Incontinence supplies are only covered for Medicaid recipients who are elderly, disabled, or children with complex health care needs. To receive incontinence supplies covered by Medicaid, there must be one of the following: a physician's prescription with qualifying diagnosis, Prior Authorization (PA), or a Letter/Certificate of Medical Necessity (LMN). Incontinence benefits under Medicaid typically start for children with complex healthcare needs at age of 3-4, because that is the age where children typically develop self-toileting skills.
When seeking a medical diagnosis from a physician, it is best to obtain a detailed prescription or letter that includes the following:
A prescription with a qualifying diagnosis
Type of products needed (estimated units per day)
Some states have additional steps such as requiring a letter of medical necessity or additional documentation. If you feel overwhelmed or confused with all of this information, our team is ready to help. Our team at Tranquility works directly with individuals, caregivers, and case managers to navigate the specific requirements of your state. We can help guide you through the process in partnership with Medicaid medical supply providers across the USA.
What Incontinence Supplies are Covered?
Similar to Medicaid incontinence benefits varying from state to state, the types of incontinence supplies and brands that are covered under Medicaid also vary by state. Most states cover youth diapers and offer generic brands; others cover only pull-on and tape-tab style briefs. Most states cover some combination of
The best way to learn what products and supplies are covered under your state Medicaid program is to contact a Medicaid incontinence supplier. Also, many incontinence manufacturers, like Tranquility, can help you navigate products available in your state and assist you in locating Medicaid incontinence suppliers in-network with your Medicaid plan.
How to Get the Supplies and Brands You Want?
If you have a preference in the brand or type(s) of incontinence supplies you want for yourself, your child, or someone you care for, you can request products by name. The best way to do this is to ask for products by name or to sample all product options offered by your Medicaid incontinence supply provider. Talk to your physician about the brand or type of products you prefer ranging from pull-on style disposable underwear, tape-tab style briefs, bladder control pads, underpads, cleansing wipes, and more. If you are new to incontinence and do not yet have a preference, be open with your doctor about this so you can get more information and may try a range of recommended products. You can also request samples of all your options to determine which product or products meet your individual incontinence or caregiving challenges.
You may also ask for a specific brand of diapers or incontinence supplies to be documented in the letter of medical necessity. While some states may not be able to accommodate the specified brand, you may be able to obtain it via waivers or an alternative plan.
We offer free samples! You can see all of our products for free home delivery or store pick-up at our store in Camp Hill, PA. If you are unable to come into the store, we make sure they receive the same level of personalized attention from a phone or virtual consultation, and our website has a full selection.