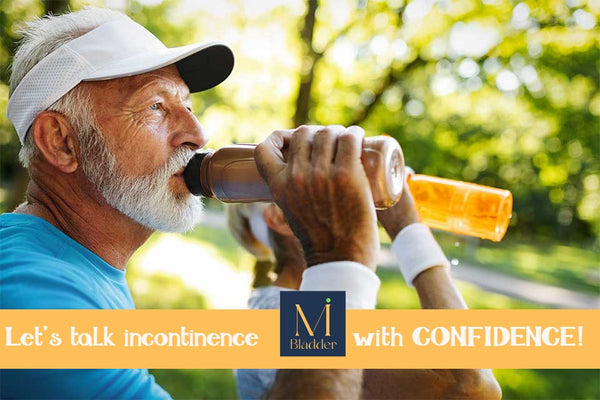 Managing incontinence in the warmer weather
Many people spend the summer months traveling and enjoying the outdoors, but these activities pose unique challenges to those with bladder or bowel issues. When wearing shorts, skirts, or bathing suits, it can be difficult to hide adult diapers or pull-ups, while increased hydration may increase the risk of accidents.
A combination of healthy lifestyle changes, proper planning, and high-quality incontinence products can keep your loved one comfortable and confident throughout the season.
How does warm weather affect incontinence management?
There are several reasons why incontinence management is challenging during warm weather:
Light-colored clothing and thin fabrics. Textiles like linen, cotton, and silk are used in summer clothing such as shorts, tee-shirts, and bathing suits. Despite being comfortable, these fabrics can make it difficult to wear incontinence products discreetly.
Seasonal outfits often feature lighter, brighter colors. Khaki or light-colored bottoms can make accidents more visible, which can affect your senior's self-esteem or confidence. 
Bathrooms are less accessible. Outdoor activities such as camping, going to the beach, and hiking are popular during the summer. Many recreation facilities have made budget cuts because of the ongoing COVID-19 pandemic, resulting in facility closures and less frequent maintenance.
Hydration is more important.  It's essential to stay hydrated throughout the year, but it's especially important in the summer. Heat exhaustion, dehydration, and kidney failure are more likely to occur when people don't drink enough water.
How can I help a loved one manage warm weather incontinence?
Preparing in advance for bathroom breaks. Planning bathroom breaks before leaving home is one of the easiest ways to prevent warm weather accidents. Several apps are available to help you locate free and accessible restrooms, including SitorSquat and Toilet Finder. 
Packing a travel bag. There is a greater risk of accidents in warm weather due to the need for increased hydration. A travel bag filled with a fresh change of clothing, wipes, and incontinence products like Seni booster pads and adult diapers will ensure you're prepared for anything.
Reminders to stay hydrated. Your senior may forget to drink water if he or she has dementia or Alzheimer's disease. Throughout the day, gentle reminders can prevent dehydration and its associated health problems. Fluid consumption is easier with thick water if they have difficulty swallowing. 
Choosing outfits that conceal accidents. There are some incontinence products that are loud or bulky. Summer clothing is usually made of thin or light-colored materials, which makes diapers and pull-ups more visible. Make sure your loved one wears dark-colored shorts or skirts that cover leakage if they feel self-conscious. For warm weather activities, incontinence-friendly swimsuits and swim diapers are available. 
SwimMates Disposable Adult Pull-Up Underwear
Those with incontinence can enjoy time in the pool or the beach thanks to these comfortable and discreet disposable pull-ups. Unlike polymers, their protective backing prevents bowel voids from coming into contact with your loved one's skin.
Key benefits & features:
Each pull-up has elastic gathers to prevent leakage

Made of cloth-like material that's silent and similar to traditional underwear

Breathable fabric that lowers the risk of rashes or irritation

Tear away sides for easy removal
 We are here to help with all your incontinence questions 717-781-2025