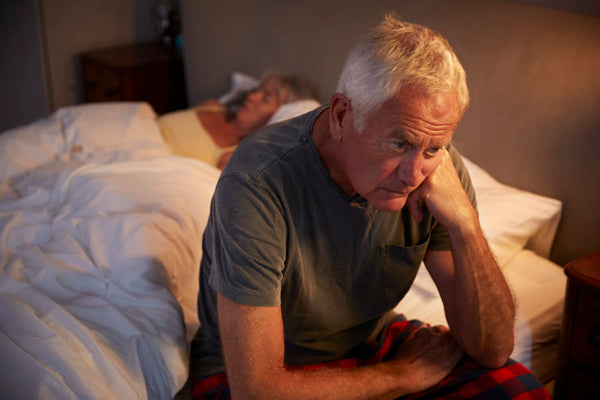 The Emotional Aspect Of Urinary Incontinence
When you or someone you know is diagnosed with urinary incontinence, the first details that normally come to mind are the physical signs: wet clothing, the urgent need to go to a restroom, having accidents at night. While these symptoms are incredibly challenging to manage, there are emotional and psychological consequences of this condition that are potentially even more unpleasant than the physical ones.  
On the other hand, there are also many people out there who are facing the same challenges you may be facing, who want to help you. This article suggests a few things to help you find those people and get the support you need to make it through your particular situation. 
One study found that women with urinary incontinence have a significantly poorer quality of life than their continent counterparts, in large part due to their emotional symptoms that included: 
Humiliation and/or stigma 
Lowered self-esteem 
Social and recreational withdrawal 
Fear and anxiety related to having an accident in public 
Depression or other psychological condition 
Reduced intimacy, affection and physical proximity 
Additionally, there was a variation in the intensity of the emotional elements, depending on the specific medical condition. For instance, women with overactive bladder were found to likely suffer greater psychological distress than those with stress incontinence. 
How to manage the emotions 
An article from WebMD recommends several methods for easing the anxiety and stress that may accompany urinary incontinence: 
Seek professional emotional counseling 
There are a lot of people who have been trained to help you deal with things that stress you out in life. Ask your doctor to recommend a professional therapist, psychologist or psychiatrist and see if they can help you cope with your condition. If you're not ready to talk with someone like this yet, perhaps start by talking about your feelings on incontinence with your urologist or "physical" therapist. They have helped many people find solutions to the medical side of their incontinence condition, and they may be able to assist you with the mental side of this condition as well. 
Practice meditation and other relaxation techniques 
A professional counselor may give you instructions or access to a variety of techniques to help you relax, clear your mind of anxiety and get better sleep. There are also many free and free-to-try meditation and calming apps now available on tablets or mobile devices. These programs give you the freedom to take a few minutes of free time throughout your day, in the comfort of your own home, to pause and focus on relaxation. If you enjoy exercising and physical fitness, try mixing in some yoga and stretching activities into your routine. 
Express your feelings at a support or community group 
As someone who experiences incontinence, you are not alone. In fact, one study found that over 46 million people in the U.S. (one out of six adults!) experience some type of incontinence. About one-third of people will experience some type of loss of bladder control during their lifetime. 
This means there are a lot of people out there who are dealing with challenges similar to yours, and who may be looking for someone like you to talk about your common issues and how you have been dealing with them. Ask your doctor if the hospital is associated with any organized support groups for people with incontinence. Or try searching for online communities from reputable incontinence advocacy groups.  
A great place to start is the National Association for Continence Message Boards community. This highly supportive group of people allows you to safely (and anonymously) talk about what you're experiencing, ask questions, share your frustrations and connect with others – even when you feel you are alone. After a while, you may even want to begin sharing your own tips and help others who are new to coping with incontinence. 
Manage the condition with incontinence products 
The anxiety of having an accident in public is no small matter, and that fear can be remedied with use of the right incontinence care products. Many of our customers have submitted positive reviews about Tranquility superabsorbent products. With tape-tab briefs, protective pull-on underwear and pads in multiple sizes and three protection levels, there is a solution that will help you regain confidence and peace-of-mind. 
A few suggested products include: 
Try a Free Sample 
If you have any questions about finding the best incontinence products to manage urinary incontinence through Tranquility, please feel free to contact us today. 
Ask how to request a free sample so you can experience the Tranquility difference for yourself, before you order! 
Call: 1-717-781-2025 Monday-Friday 10 a.m. to 6 p.m. ET 
Email: hello@mobilitons.com anytime 
References: 
https://nafc.org/message-boards/
http://onlinelibrary.wiley.com/doi/10.1576/toag.13.3.143.27665/pdf 
http://www.webmd.com/urinary-incontinence-oab/features/oab-stigma 
Robert Recker 
Robert is a Senior Manager of Content Marketing for Principle Business Enterprises, parent company of Tranquility Brand Continence Care Products. He has 15 years of experience creating online educational content in the healthcare industry, specializing in medical supplies.  
For more information or questions about this article, please call 1-419-352-1551 or email CustomerService@pbenet.com. 
You can find original post at https://tranquilityproducts.com/the-emotional-aspects-of-urinary-incontinence/