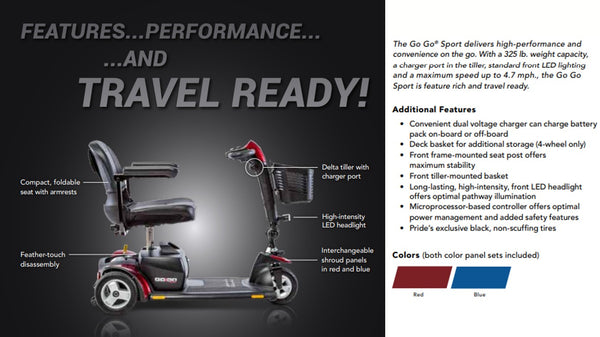 The Process Of Selecting A New Mobility Scooter Can Be Overwhelming
when you first start the shopping process. There are so many great choices with their own benefits. You want to be sure you pick the mobility scooter that fits your main mobility needs. The categories below highlight the features and benefits of each scooter category to help get you moving in the right direction.
Travel scooters: are lightweight, versatile and good for indoor and outdoor activity on level surfaces. Because of their smaller size, they maneuver well in tight spaces and either fold or disassemble for easy stowing in most car trunks or other vehicle compartments.
Travel Scooters are ideal if you:
Often want to take your scooter with you when you travel
Will be riding over smooth surfaces such as hardwoods, tile, flat carpets, maintained sidewalks or paved trails
Want speeds up to 5 miles per hour
Need the scooter for no more than 15 miles between battery charges
Need a seat between 17 and 18 inches wide.
Are 5'10" or less
Full-sized scooters: are designed for scooter users who want more features and power. The individual pieces of a full-sized scooter are heavier and bulkier than those of a travel scooter, but they are designed for disassembly if needed. Full-sized scooters have an excellent range of standard features and optional upgrades.
When thinking about a full-sized scooter, consider incline rating and ground clearance. This information can be found on the specs tab of the product pages.
Full-size Scooters are ideal if you:
Want a roomier indoor/outdoor scooter
Only need to disassemble your scooter occasionally
Will be riding over smooth surfaces such as hardwoods, tile, flat carpets, maintained sidewalks or paved trails
Prefer a scooter with suspension for a significantly smoother ride
Want speeds up to 8 miles per hour
Want to travel up to 20 miles between battery charges (models vary from 11-20 miles per charge)
Need a seat up to 21 inches wide
Weigh less than 350 lbs (including accessories and personal items)
Incline
Ground Clearance
Heavy-Duty Scooters:

True heavy duty scooters offer generous seat widths and extra durability as well as higher speeds. A wide range of standard and optional features are available. Heavily padded seats, such as a captain's chair, are often standard and custom seats up to 24" and even 1 model with a 33" seat. While heavy-duty scooters can be disassembled, this is a cumbersome process for non-travel models and would not be practical on a frequent basis.
Heavy duty scooters are ideal if you:
Want to use the scooter predominantly outdoors on uneven terrain (with slopes up to 12 degrees) or in large indoor spaces, like a mall or stadium
Want speeds up to 9.3 miles per hour
Want to travel up to 30 miles between battery charges
Need a seat up to 22 inches wide and 20 inches deep
Weigh up to 500 lbs (including accessories and packages)
Incline
Ground Clearance