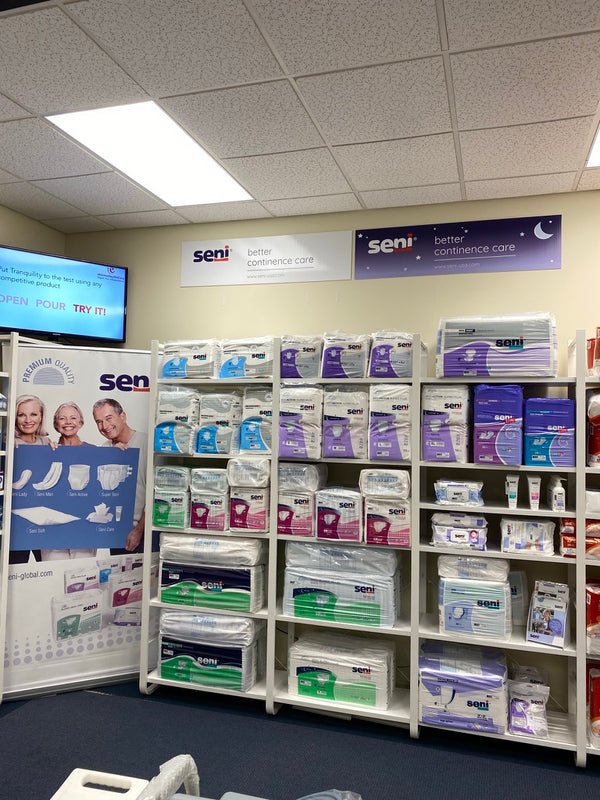 Top 5 Protective Underwear Considerations
When it comes to how to choose the best incontinence underwear, there are five primary considerations. Depending on your situation, lifestyle, and preference, these considerations will shift in level of importance for each individual or caregiver. For those on a budget, cost and absorbency are all that can really matter; for others, material and style may be more important.
For more information when cost is a consideration see Part 3 of our Introduction to Incontinence Blog addressing a very important question: "Does Medicare cover the cost of incontinence supplies?" Also make sure you have read Part 1 to better understand our unique approach to providing highly sensitive and compassionate service either in our store or through a personalized phone or virtual consultation.
1) Absorbency
At MiBladder.com, we strongly recommend wearers and caregivers consider absorbency needs when choosing an absorbent underwear for urinary incontinence. Far too often we hear stories about soiled linens, long nights of accidents, laundry, leaks in public, and more. While there may be multiple reasons for poor product performance, often it is because of a low-absorbency product. We know it is not easy… the use of terms like "super," "maximum," and "ultra" can make it challenging. Plus, the use of raindrops to showcase absorbency level doesn't help.
When possible, look for definitively printed absorbency levels like the cups shown here. While you may not know your exact urine output, it allows you to understand your absorbency level without having to guess.
A recent statistic from the 
National Association for Continence
 stated that people with incontinence try an average of seven different products before finding one that works for them. We believe this is primarily due to challenges with finding the correct absorbency.
2) Style
There are two styles of incontinence underwear, pull-on style protective underwear and tape-tab style briefs. Pull-on style – you guessed it – pull on like traditional underwear. Tape-tab style products, also known as disposable briefs, utilize tape-tabs to adhere, similar to how baby diapers are applied. A few factors go into determining which style you or someone you care for may prefer.
Personal Preference: Many wearers of incontinence underwear already have a preference of product style. If you are new to incontinence products, many adults who have worn traditional underwear prefer pull-on style disposable products. Since they are pulled on and off, pull-on style incontinence underwear allows individuals who can still use the toilet the ability to continue doing so.
Alternatively, some individuals and caregivers prefer the tape-tab style brief. This style can be securely fastened multiple times and does not require stepping into the product as with pull-on style products. Tape-tab style products are widely used in nursing homes and care facilities for incontinence management.
3) Material
SizeAnother important consideration is the material used for the outside layer (also called backsheet). The two primary materials are clothlike and poly-backed. Poly-backed incontinence underwear are made with a plastic backing, the same material used for most baby diapers. Alternatively, clothlike incontinence underwear are made with a clothlike material that is soft and rustle-free. Clothlike products can also be "breathable," meaning they allow air to circulate, which promotes skin health.
When it comes to selecting a material, it is mostly a matter of personable preference. Most products on the market today are clothlike, many of those being designed with breathable fabric. However, many poly-backed products remain, as some consumers continue to prefer the plastic-backed style due to the sense of security it provides them.
Poly-backed products are only available in tape-tab style products, whereas clothlike incontinence underwear is made in both pull-on and tape-tab styles.
Most incontinence underwear are latex-free. However, if you are allegoric to latex or prefer latex-free products, be sure to verify the product you use is latex-free.
4) Size
Size is extremely important to product performance. It will be hard to determine the right product for you or someone you care for if the wrong size is purchased.
There is a misconception that larger sizes hold more urine. While this may appear true (many of our larger sizes have greater capacity), wearing the proper size is critical to performance. Too large of a size creates openings that cause leaks from the legs and waist. Many wearers and caregivers attribute leaks and accidents to the brand/style/absorbency of the product, when the problem may actually be the size.
Be sure to closely follow the manufacturer's sizing guide to ensure a proper fit. Here are examples of a sizing guide and a tip on how to measure the body to determine sizing.
A wearer's size, particularly those requiring Youth or Bariatric sizes, may dictate the product style and material that are available. However, manufacturers continue to innovate to offer more expanded size ranges to these groups.
5) Cost
While cost may be the first consideration for some, we urge wearers and caregivers to abide by the old saying, "you get what you pay for." While lower-cost products may work well for some, we have received hundreds of testimonials from wearers and caregivers – typically those with heavy incontinence – explaining their challenges with these items. If cost is a major consideration for you, reach out to the manufacturer to see if they can provide any support or product recommendations. Combining a highly absorbent booster pad with a lower-cost incontinence underwear could meet the absorbency needs without significantly increasing cost.
Keep reading for more information when cost is a consideration and see Part 3 of our Introduction to Incontinence Blog addressing a very important question: "Does Medicare cover the cost of incontinence supplies?"